NetEnt: The Best Online Casino & Video Slots
NetEnt is undoubtedly the most defining casino game developer in the last few years. With a huge number of slots that have made a deep impression in the world of online casinos, software used by more than 300 different casinos and an excellent live casino, no one can ignore producer NetEnt. 
Games from NetEnt have always been beautifully designed and the company has added some revolutionary game elements to video slots, which have since been adopted by many other companies.
However, the success of the video slots is not only due to graphic beauty. For example, the Divine Fortune jackpot falls every six weeks with an amount of approximately €140,000. This attractive jackpot makes playing with NetEnt games even more exciting.
All slots from NetEnt have a high payout percentage, making the games without a jackpot certainly worthwhile. Check all of NetEnts video slots on the casino games page.
Play Free NetEnt Games
All games from NetEnt can be tried out for free, so you can easily get to know the extensive range of games from this developer. Looking for a profitable slot? Then try Jack and the Beanstalk: this modern video slot ensures that you can win up to thousands of euros with an investment of just one euro. The bonus game allows winnings to add up very quickly. The game also shows what NetEnt is capable of; the game has a nice introductory video, fun animations and excellent design.
The most popular slot from NetEnt has to be Starburst, partly because this is a slot that many casinos give away free spins on.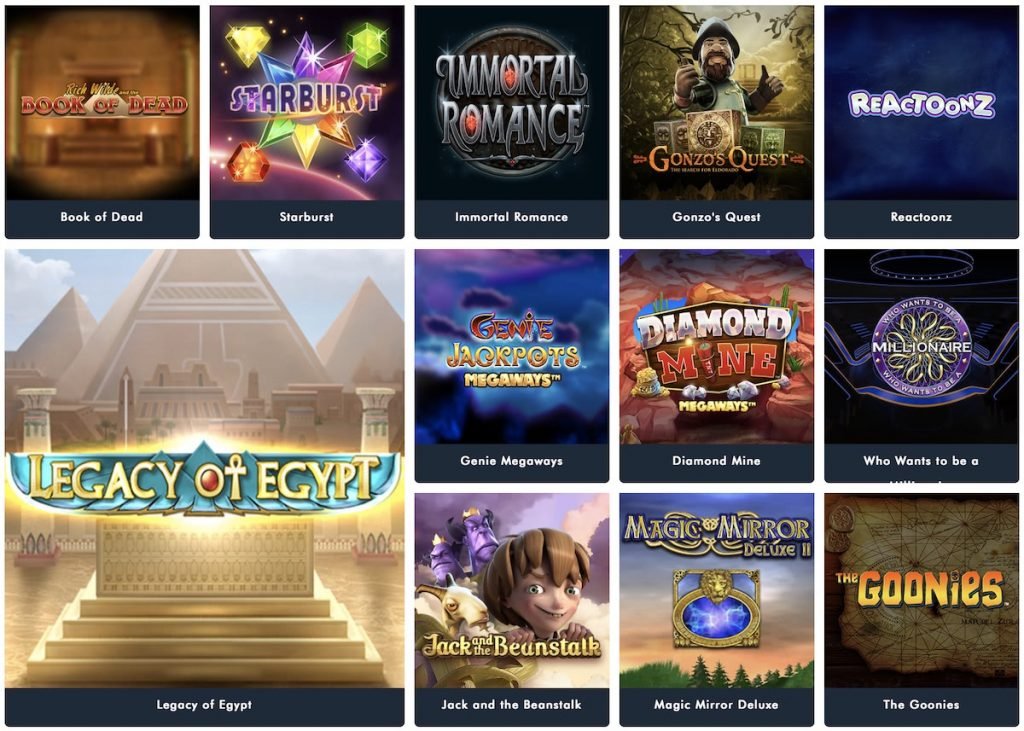 Most players have heard of Starburst but other top titles from NetEnt are:
Gonzo's Quest (which brought about a small revolution for video slot enthusiasts)
Wild Water
Jack Hammer
Dazzle Me
Twin Spin
In addition to video slots and slot machines, NetEnt also makes live casino games. While these games are unfortunately not free to try, they are definitely worth checking out. To access these games, you must have an account with an online casino that offers the games.

Blackjack enthusiasts should definitely take a look at live common draw blackjack. Hundreds of players play at the same time with one dealer, but there is always room at the table. In addition to the live games, NetEnt also has a number of regular table games that you play against the computer, such as American Roulette or blackjack within the realistically designed 'Pro Series'.
About NetEnt
The company NetEnt (officially Net Entertainment) was founded in 1996. This originally Swedish company makes casino software for online casinos that offer video slots and table games. In addition to developing games, NetEnt had started to set up a number of casinos, but these were sold in 2005.
Since then, this (listed) company has released a new game approximately monthly. Although the older games were programmed in Java, the games are now made with HTML5: future-proof because they are mobile playable! Another advantage of NetEnt games is that they are available in no fewer than 22 languages. Even if your English is not very good, you can enjoy a NetEnt game optimally.
Strengths of NetEnt Games
The first thing that stands out about NetEnt games is that they are designed to steal the show. Some slots have a unique atmosphere, other slots have a design that is reminiscent of a complete video game and yet other slots always know how to surprise you by bringing special elements into the gameplay.
In addition, it is clear that NetEnt does not want the graphics to be all that the games have to offer. The games are well put together, play wonderfully and have unique game elements that make each slot slightly different. With a varied portfolio, there is also a perfect slot for every type of player. NetEnt also has a number of games with a progressive jackpot.
Three NetEnt slots to Try
NetEnt's portfolio is bursting with classics and slots to try. Even a top ten of NetEnt video slots would give an incomplete picture of the versatility of this developer, but below are three slots that you should not miss.
Gonzo's Quest definitely deserves a place in the top three slots that give a good picture of NetEnt. This slot starts with an introductory video, has spectacular animations, a revolutionary way in which the symbols appear and many extras are hidden in the game. Gonzo's Quest is such a good example of what NetEnt has in store that they have adopted little Gonzo as a mascot too.
The Jimi Hendrix slot is possibly the slot with the best soundtrack ever (although there are also slots for fans of Guns 'n' Roses and Motörhead). In addition to that soundtrack, the game has a unique atmosphere and design that you must see, but the gameplay itself is also of excellent quality.
With Butterfly Staxx, NetEnt has created a game that wonderfully combines the excitement and adrenaline of a slot with butterflies fluttering around in a wonderfully relaxing setting. For players who are looking for an excellent slot where they can also relax, Butterfly Staxx is clearly the best choice.
Conclusion
Software developer NetEnt has developed so well that it is now the standard by which all other developers are measured. There may be small studios that come close to NetEnt in terms of graphics or innovation, but no company can combine all game elements so well. NetEnt has a catalog of classics that can last for years to come, and to which new classics are added at great speed.
No other company gets as much attention for a new game as NetEnt and there are few studios with more famous slots than this company. If you browse through the offers of this developer, you will quickly see why. The games play very well, are graphically beautifully constructed and also provide opportunities for big winnings.
Even players who don't pay attention to which developer makes their favourite games can't ignore NetEnt. The games of this company are on the first page at every online casino and are often the first candidate for free spins.
Yet it is certainly worthwhile to try different NetEnt games for an afternoon or evening. This is the best way to see the variety the company can put into the slots. Each game has a unique atmosphere that is created down to the smallest details.
Another way to see NetEnt's perfectionism up close is to play one of the developer's live games. Many online casinos that also offer a live casino have one or more games from NetEnt. The innovation is also visible here: with live common blackjack draw, hundreds of players can play the same game of blackjack at the same time.
NetEnt is arguably the most accessible developer you will find in casino lobbies. Beginners will be impressed by the graphic beauty of the games, while advanced players will always find new game elements and high stakes.