If you've yet to use a free bet, or if you've yet to qualify for a sign-up offer at an online betting site, we're going to need you to crawl out from under that rock.
Free bets and sign-up offers are the best way to bet, taking away the need to spend your own hard-earned cash in order to get involved with the big games every week.
Okay, we get it-you're busy. So if you honestly haven't yet made use of a profit-packed free bet or sign-up offer, here's the rundown on how to use a free bet and what you can expect from it:
Latest Free bets and Enhanced Odds Offers
Whether it was intentional or not, you've stumbled across the Mecca of the latest free bets and enhanced offers right here at UltraGambler. Not just the latest, but the biggest and best, which provide you with incredible opportunities to make some real cash, risk-free.
Our team of human radars are the best around at locating the latest free bets and boosted price promotions, so you can make us your one-stop-shop for free bets, various other promotions, and tips and information related to any form of betting.
What Is A Free Bet?
Free bets are by far the best way to enjoy betting on your favourite football matches, allowing you the chance to capitalise on the action without risking your own real cash.
Free bets work like vouchers in a store. In itself, it has no cash value – but with the retailer, it's worth as much as it says on its face. A £10 free bet is worth £10 cash in the eyes of your retailer, which in this case is your choice of a betting site.
The only difference is that there will almost always be terms and conditions that determine how much you can stake at a time, what you can stake your free bet on, minimum odds of your selections, and various other rulings. Always be sure to fine-comb the terms and conditions of your free bet to ensure you do not disqualify yourself from big potential profits.
Free bets can be attained in a number of ways, but the biggest free bets available tend to be those received from sign-up offers when you register with a new betting site. Sign-up offers have been a tool used to entice new customers since betting sites began and with so many new and upcoming bookmakers and betting sites, the size of these free bets are absolutely skyrocketing
How To Use A Free Bet
Free bets are as easy to use as you'd expect them to be. After all, if the bookmaker makes it any more difficult than it needs to be, we've got plenty more free bets and betting sites to choose from.
If you've attained a free bet through a sign-up offer, be sure to check whether there's a promo code involved or not, and if there is, input that during the registration or deposit process. This is the first hurdle and it trips punters up far too often.
Once you've created an account, deposit any required amounts to qualify and check those terms and conditions for market restrictions and minimum odds terms. Then, when you know what you can and cannot bet on, it's time for the fun part.
Make your bet selections and open up your bet slip. Then, where you'd normally have to input a cash amount, simply select your free bet coupon instead and place your bets. It's that simple.
If you win, your earnings will be returned to you as real cash minus the free bet stake amount. If you lose, you can either use up your deposited funds or head on to the next betting site for another new lucrative sign-up offer.
Premier League Free Bets
The Premier League is widely considered the best league in the world for a number of reasons. The main reason that matters most to you, is that anything can happen. Anyone can beat anyone on the day as we see week after week, which means there is profit potential regardless of how you choose to bet.
Big bucks on the favourite? A dabble on the underdog? Or mix it up with one of the hundreds of markets available for each and every Premier League match. With many online bookmakers and betting sites, you can even create your own bets now and the possibilities are endless.
We have all the best and latest Premier League free bets, so you can head into each and every match day knowing you can make a small fortune absolutely risk free.
Champions League Free Bets
The Champions League is undoubtedly the biggest competition in club football and as we've seen with the failed attempt at the creation of The Super League, that's very unlikely to ever change.
Every time The Champions League returns to our screens, you'll notice your favourite betting sites promotions will get just that extra bit more generous. If your usual site is raising its generosity levels, we can assure you that every other betting site is, too.
So, every time The Champions League returns to fill that mid-week football void, we'll make sure you're kept up to date with all the latest and biggest free bets for Champions League matches so that you can take those epic excitement levels to a whole new level.
The biggest teams. The biggest players. The biggest free bets.
Free Bets FAQ's
Where can I find free bets?
Free bets can be found on the majority of online betting sites. The problem is, there are so many betting sites out there that it can be an overwhelming task to locate them all and cypher through the bad ones to find the gold mines.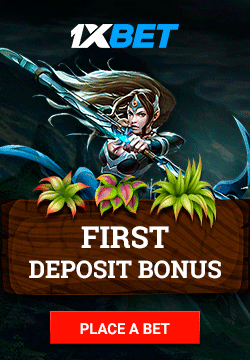 Fortunately – we've found the king of all free bets for you. A betting site that has free bet specials often! 1xBet is the answer to your free bet dreams! With free bet opportunities on plenty of major sporting events and a fantastic casino you'll have all your betting needs fulfilled in one place!
Best of all, you can grab a 100% bonus now at 1xBet to enjoy some casino action for free while you wait a short time to grab one of the many free bets that 1xBet offer clients all the time!
Don't miss out – JOIN NOW!
Can I withdraw my free bet?
Unfortunately, you cannot withdraw free bets. Free bets don't even usually tend to add to your betting balance and instead work more like coupons that you add to your bet slip before you place your bet.
In some cases, you may not be able to withdraw your winnings until after you've wagered your free bet a number of times either, however, this is very rare in the case of sports betting.
What are the terms and conditions of my free bet?
The terms and conditions of your free bet are laid out by the betting site that is offering the promotion, and although the exact terms vary from promotion to promotion, there are a few recurring rules that we see on most occasions:
Minimum deposit – once you have created your account, ensure you deposit the minimum amount required in order to qualify for your free bet.
Minimum stake – the minimum stake to qualify for your free bet is usually the deposit amount. The minimum free bet use amount is usually the entire free bet amount or multiples of 10.
Minimum odds – make sure your selections meet the minimum odds requirements of your free bet. Minimum odds are usually 1.0 or 2.0 but will depend on your free bet's specific terms and conditions.
Market type – sometimes betting sites like to encourage betting on specific markets and will not allow your free bet to be used on others.
Time frame – there will be time frame rules on how long you have to qualify after you've registered your account, as well as how long you have to use the free bet before it disappears. This is usually seven days but will vary.